Our Rehabilitation Team's goal is to restore, maintain, and maximize physical strength and function, by addressing the underlying physical impairments. We strive to provides greater quality of life giving you more time with our pets.
Pain-free happiness. 
Post Surgical Rehabilitation
Rehabilitation post surgery can have the following beneficial effects:
Decrease pain, swelling and inflammation
Maintain/Increase Range of Motion/Increase proprioception
Increase strength and Endurance – exercise program
Return to prior level of activity – prevent further injury
We can also assist in:
Recommendations for therapeutic products. 
Developing a Home Care program
Provide Laser therapy
Trauma or Chronic Injury
Patients who are crated or immobilized due to injury often will have generalized disuse atrophy of their muscles.  This can be slowed or reversed with rehabilitation exercise and laser treatment.  Providing light exercise that provides some loading to the bone can be very helpful. 
Laser treatments once a week for 4-8 weeks is recommended with range of motion and massage at home to help strengthen atrophied muscles. 
Arthritis
Geriatric – Senior Care Rehabilitation and Support –
Treatments include degenerative joint and neurologic diseases, but should simultaneously enhance overall fitness and quality of life for aging pets.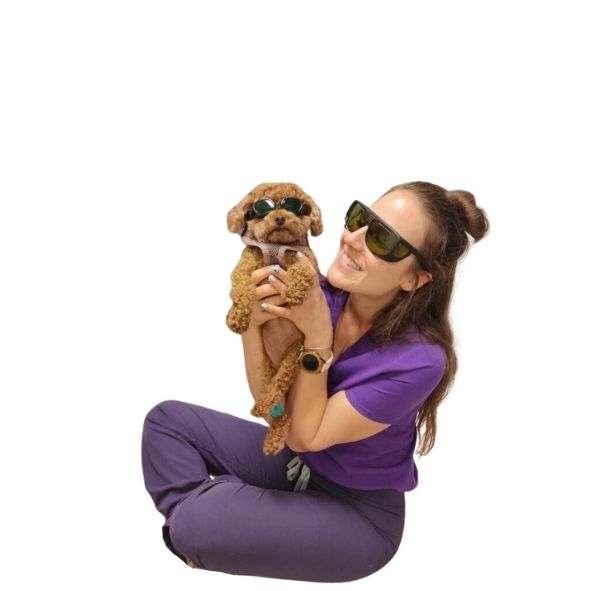 Decrease pain and inflammation due to arthritis – Monitor long term medications
Home Care Plan - Nutrition, Exercise and Rest, pets physical and emotional needs.
On going support
Palliative and Hospice Care
Nutritional Therapy – Weight Management
Prescription Diets
Treat restriction
Calorie calculation for owners
Healing foods
Special Needs – grooming and boarding
Technician supervision Boarding – oversee medication, 6 outdoor trips, assistance with feeding, raised bedding, clean up baths as needed.
Grooming - Spa soak with therapeutic shampoo and conditioning, Hand Dry – sanitary shaves – skin care