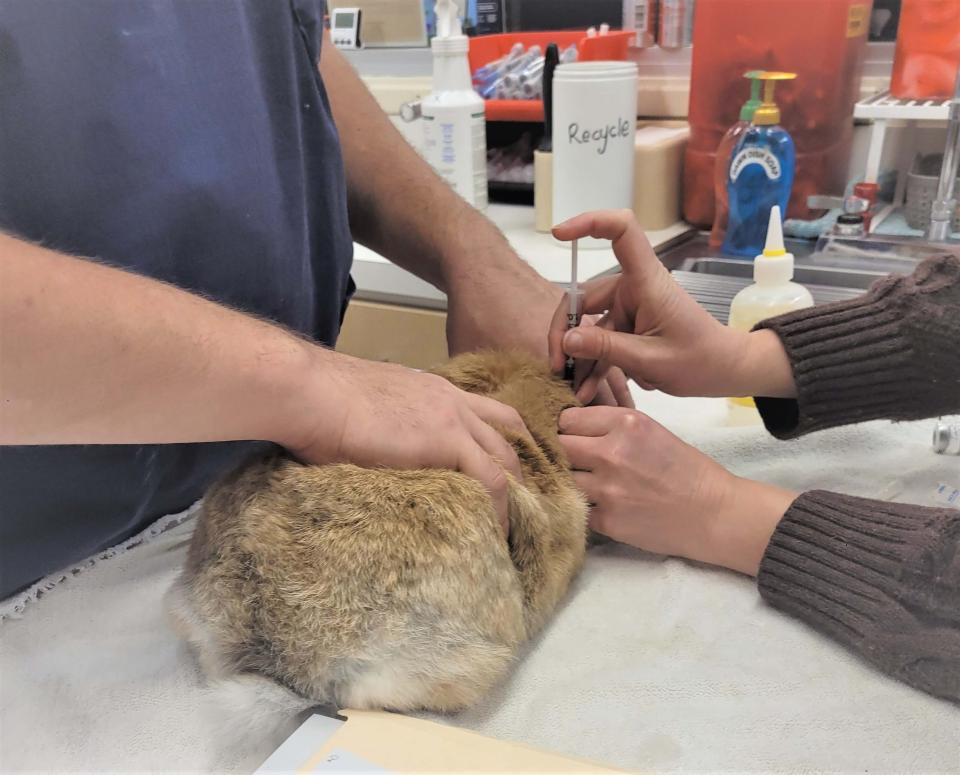 Rabbit Vaccination
Rabbit Hemorrhagic Disease (RHDV2)is a highly contagious and fatal calicivirus. This deadly virus affects both pet and wild rabbits. RHDV kills quickly, giving little warning. Symptoms include fever, lethargy, internal bleeding and/or organ failure. As of April 2022, RHDV2 has been confirmed in wild rabbits in New Mexico, Arizona, Texas, Colorado, California, Nevada, Utah, Idaho, Wyoming, Montana, and Oregon.
Symptoms can include some of the following:
Inappetence, or loss of appetite
Lethargy
Fever
Weak or Wobbly
Bleeding from the nose or mouth
Difficulty breathing
The best way to protect your rabbit from RHDV2 is through a combination of vaccination, indoor housing and sanitation.
Let's talk about vaccination!
Vaccination is the best way to protect your rabbit from RHDV2. The first vaccine to protect against RHDV2 was developed in France and the United States government allowed it to be imported pending a vaccine made here. In late 2021 the USDA granted emergency use authorization for a vaccine made by Medgene lab. Medgene Labs' RHDV2 vaccine is an inactivated or killed recombinant subunit protein vaccine that builds immunity to RHDV2-specific antigenic proteins in the rabbit. The Medgene vaccine is a two dose regimen with the second dose given 21 days after the first.
Each vial of this new vaccine holds 10 precious doses, which is why here at Point Vicente, we are currently scheduling vaccine clinics to get our community's rabbits vaccinated. In order to ensure the safety of each vaccinated rabbit, a doctor is present to make sure the rabbit is healthy with a good temperature before the vaccine is given. Then rabbits are monitored for an additional 15 minutes in case of any adverse effects. The doctor then takes one final temperature check before the pet goes home. We recommend keeping an eye on your pet for the remainder of the day to monitor appetite and energy level.
Here are some other precautions you can take to help protect your rabbit:
Rinse all greens before giving them to your rabbit
Don't forage for your rabbits greens, plants found in the yard could carry virus
As much as possible, keep your rabbit indoors. Limit outside enrichment to 30 minutes a day, and ensure your fences are secure
Try not to wear shoes indoors, or switch to a separate pair to reduce possible exposure.
Feed hay that has been harvested at least 105 days prior. If you buy relatively fresh hay store the hay for 3-4 months to minimize risk before feeding it. Hay should be stored indoors only away from rodents or insects. You'll want to store it in cardboard boxes or other breathable container, or the hay could mold. Pre-packaged hay at least 3 months past harvest is likely safe.
Disinfect everything before giving it to your rabbit, such as toys, bedding and other enclosures
If you own other pets, be careful to wash paws with soapy water and don't allow your other pets to go into the same areas as your rabbit.